---
We make cards to make people happy.
We like to draw pictures. We like to make jokes. We love good paper. It's a nice fit. Every card from Anvil Cards is made from start to finish at our greeting card shop in Houston. Give cards. Give love. Give often!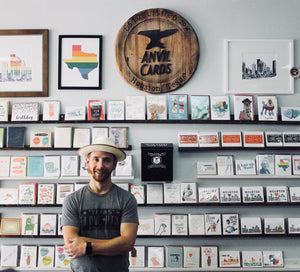 The Best Little Greeting Card Store in Houston
Or at least we like to think so. Anvil Cards carries hundreds of unique card designs, gifts from local makers and a huge lineup of Houston shirts, enamel pins, hats and more.  Some are our original works made right here in the store. Some are from amazing local, Bayou City artists. And the rest are from some of the best independent card shops and letterpress card studios in the USA. We love paper. Stop by and find something special for your special someone.